Book a Larne Ferry to Fleetwood in the UK. Book a Larne Ferry with Stena Line. Book a Larne Ferry with whichferry.co.uk


Larne is both the most modern and the most ancient of places. The name of the town is believed to have derived from a prince called Lathar, son of an ancient Irish king, who was granted the lands by his father. The area came to be called Lathar-na, meaning the lands of Lathar, and this has been anglicised to Larne. Archaeology has produced remains and artifacts in the area suggesting an ancient culture which lived close to the shores of the North Channel and traded with others around the coasts of Scotland.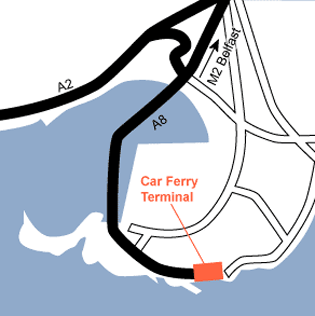 The port of Larne is approximately a 25 minutes drive North of Belfast. From Belfast: Take the M2 Motorway north staying in Lane 2 (of 5) or (if overtaking), lane 3 (of 5). After about a mile, you will pas under two fly-overs, which are an overhead interchange. Follow the motorway for a further 1/2 mile and you will notice that it appears to split into three. To your left is a tight left turning slip road, to Greencastle; straight ahead are the two lanes of the M2 which actually turn to the left before rising uphill and the two lanes to the right become the M3 and follow the shoreline of Belfast Lough. It is crucial that at this point you are in lane 2 or 3. Follow the motorway up the hill for about 3 miles (5km), and after it levels out, you will be aware of a slip road to your left which will take you to Larne via the A8(M). Leave the M2 at this point and on the off-slip get into the right hand lane as you are approaching a roundabout type junction. As you travel around the roundabout, you will pass under a flyover, that is the Motorway. Take the next exit from the roundabout and travel uphill and then down to another roundabout. Go straight ahead at this roundabout and follow this road until you reach Larne. As you reach Larne you will become aware of good sign posting towards the ferry port.