Book a Rosslare Ferry across the Irish Sea to the UK ports of Pembroke and Fishguard. You can also book a Rosslare Ferry to the French ports of Roscoff and Cherbourg. Choose from three different ferry operators - Irish Ferries, P&O Irish Sea or Stena Line. Book a Rosslare Ferry with whichferry.co.uk


Rosslare is a well-known seaside resort 11 miles south-east of Wexford. Its wide bay is fringed by a 6-mile coastline. Rosslare Harbour is situated at the South Eastern tip of Ireland. The Port is an excellent gateway to the East, South East, West, Southwest and Midlands via the N11/N25 road network. Rail passengers are catered for with connections to and from the main railway stations in Ireland.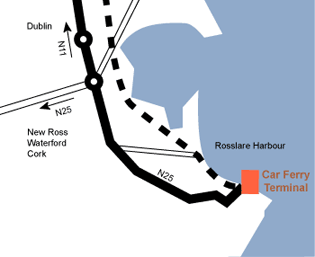 From Wexford, follow signs to Rosslare R730 (former N25) At roundabout take 1st exit N25, and follow road to Rosslare Harbour.