Book a Portsmouth Ferry to the French ports of Cherbourg, Caen, Le Havre and St Malo. Book a Portsmouth Ferry to Bilbao in Spain, or Guernsey and Jersey in the Channel Islands. Book a Portsmouth Ferry with whichferry.co.uk


Portsmouth is the historical home of the Royal Navy. Located centrally on the South Coast, it has excellent links to the motorway network, & offers both passenger & freight services to a number of continental destination ports.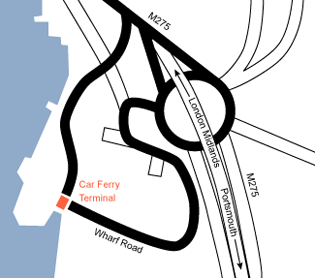 Exit M27 at J12 & follow M275 to Portsmouth. At the Rudmore Roundabout turn right & follow signs to Ferries. The Continental Ferry Port is straight ahead. Going from the port recent road improvements means that an exit road gives cars and coaches direct access to a northbound slip road on to the M275 plus easy access to central Portsmouth.