Book a Caen Ferry ticket for your ferry crossing of the English Channel to the French port of Caen. Choose a Caen Ferry sailing from the ferry operator Brittany Ferries. Book online a Caen Ferry crossing ticket with whichferry.co.uk


The capital of lower Normandy, Caen lies between two rivers, the Orne and the Odon. Caen was one of the many cities to suffer serve ill-effects of World War II. During D-Day the city was bombed and is said to have burned for a week before being liberated. The damage was on a grand scale and the only vestiges of the past to remain was the ramparts of the Chateau and the two great abbeys. These were built by William the Conqueror when he founded the City in the 11th Century. The beaches are the sites of D-Day landings and some of the best to visit are Mulberry Harbour at Arromanches (notheast of Bayeaux) and Pointe du Hoc on Omaha Beach. Caen is a historic Norman city but the newest ferry-port on the Channel. A short drive away is the autoroute to Paris, the south, or routes west into Brittany. Caen ships dock at Ouistreham, 15km north of Caen, accessed via fast dual carriageway. There are excellent road links to Paris, Brittany, the Loire, the South West, the Mediterranean and the rest of Normandy. Caen has excellent shopping, and many attractions, including two famous abbeys and The Museum of Peace.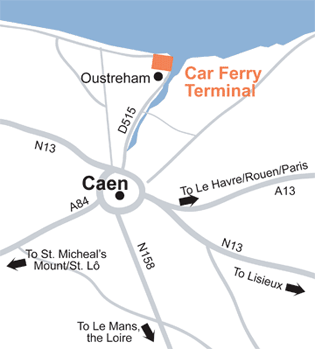 From Paris, take the A13 ROUEN/CAEN motorway, and then follow signs to Ouistreham/Car ferry.